Taiko Arts Center, a 501c3 non-profit organization, is participating in Foodland's "Give Aloha" – a community matching gifts program. From September 1-30, customers can make a donation up to $249 per person per participating Hawaii non-profit organization at Foodland and/or Sack N' Save check-out counters. Foodland and Western Union will match a portion of your donation which increases the monetary value of your donation. Donate today and GIVE ALOHA to Taiko Arts Center! Mahalo nui loa!
The code for Taiko Arts Center is: 78462.

Taiko Arts Center, in conjunction with Habilitat, is selling Christmas trees to raise money for educational & cultural programs. We need your help to make this fundraiser a success! Please share this wonderful opportunity with your family, friends and co-workers. All of our trees remain in refrigerated containers until the customer picks them up. Habilitat's customer service is excellent and second to none. They will help you select, trim, stump, bale, carry and tie your tree to your car.
Download the ORDER FORM now and buy Christmas Tree to support Taiko Arts!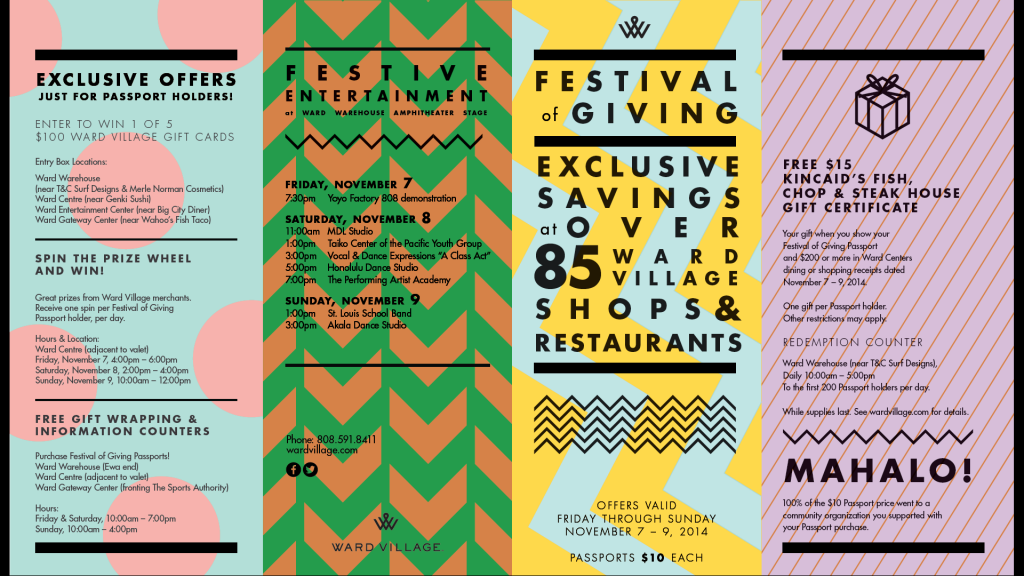 Save big and get an early start on holiday gift lists at Ward Centers' Festival of Giving from November 7-9, 2014. Purchase a Festival of Giving Passport for just $10* from Taiko Arts Center, gain access to exciting center-wide and store-specific offers.
Passports will also be available for purchase at any of the Taiko Center of the Pacific public classes, or contact info@taikoartscenter.org
*With your passport purchase from us, 100% of the $10 Passport price will go to Taiko Arts Center